Brad Pitt strives for joint custody of 6 kids
|
Updated On:
2016-09-24 06:53:49.0
|
Location :
Brad Pitt is ready to fight for equal rights as As Angelina Jolie will obtain sole physical custody



According to TMZ, Brad Pitt, 52, is now up and ready to fight Angelina Jolie, 41, for the joint physical custody of their six children. Angelina has requested that she indeed gets the sole physical custody of their children if Brad seeks only visitation rights. It seems that Brad is just not ready only for the visitation rights and will not give Angelina without a legal battle. Brad is preparing for a legal suit in the courtroom.

A source close to Brad talks about the custody  HollyowodLife.com "Family is everything to Brad." Brad is born from a "traditional midwestern family." Although he is famous, this Hollywood superstar, have the traditional values. Since Brad's kids add up lot of value to his career, losing them would be devastating.
"Being a good dad is what he prides himself on more than anything in the world," the source explains to 
HollywoodLife.com
. "More than all the fame and fortune he could ever achieve."
[caption id="" align="alignnone" width="320"]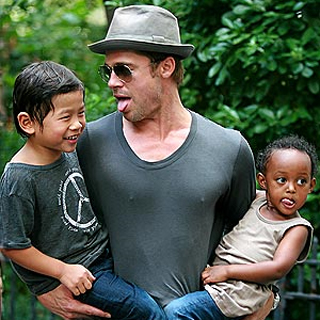 Brad pitt with kids[/caption]
Regarding Brad, sources tells
TMZ, "
There's no chance that's going to happen." Brad doesn't want to involve with Angelina's capacity to be a co-parent, but he won't let her prevent him.
It is said by sources
TMZ
that Brad is quick to add Angelina's a "great mother" and does not want to hurt her in the process of getting divorced. Moreover, Brad and Angelina have been not getting along since months and did had talks about divorce many times. Therefore, this wasn't a shock although he is pretty much distressed.
[caption id="" align="alignnone" width="439"]
Angelina with kids[/caption]
Furthermore, sources of Angelina had claimed that Brad is heavily involved in weed and alcohol for which she claims that is problem with regard to anger. This invites risk to their kids though sources say that Brad can never put his kids in risk... ever.
Sources say to
Mirror,
that "Brad is a very caring and attentive father and it's sad that people are continuing these smears, which only hurt the children and the entire family."